Long Arm Services
Paid Finish Quilting:
We are accepting quilts to finish using our computerized Pro-Stitcher and Handi Quilter Fusion Long arm machine.
We provide custom quilting work or all over meander with prices based on the style of quilting you request. If you have a quilt to be finished please feel free to call the shop at 317-776-4772 to speak with Cindy, our with our Longarm Quilter. You may also reach her by email at Cindy@alwaysinstitches1.com. The following brochure explains how to prepare your quilt and shows the pricing for our services. Thank you for entrusting us with your quilting projects.
Long arm service
Quilting Brochure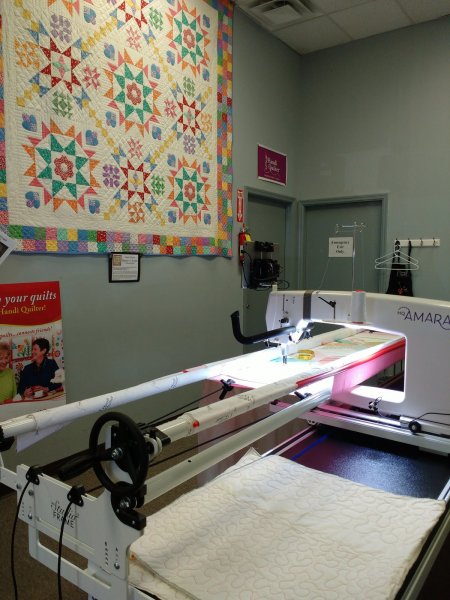 Long Arm 101 Certification Class for Personal Rental:
NOTE: We are currently waiving the recertification requirement for all Long Arm 101 graduates. If you have ever attended a Long Arm 101 certification class you may rent our Amara Handi Quilter studio to complete your quilt tops. Please call the shop at 317-776-4227 to arrange with Cindy or Stephanie your private rental of our machines.
Rental times for using our Handi Quilter Forte Machine are available during our regular business hours. Rental time is from 10:30am-3:30pm Monday through Friday. We do not allow rental on Saturday or Sunday. Reservations are required at least 1 week in advance.
To ensure your experience is successful, we require that every renter be certified on the machine before quilting. This $30 class teaches set-up, loading and basic operation. Generally the class is offered 10:30am-11:30am the third Wednesday of the month and 5:00pm-6:00pm on the third Tuesday, but please see our calendar for specific details.
The class and any rental time does not include use of the Pro-Stitcher equipment. You may use the rental form in the following link for more details:
Longarm Rental Agreement

Longarm 101 Class